AWARD-WINNING MARKETING MIXOLOGY
A cocktail of components to create a stand-out campaign
In the bustling world of PR & Brand Marketing, where the competition is fierce, a shelf adorned with shiny industry awards can be the feather in an agency's cap. Numerous industry studies have consistently shown that campaigns recognized for their creativity are not only memorable but also yield exceptional results. In fact, creatively awarded campaigns are 11 times more likely to drive share of market growth and 10 times more likely to increase share of voice. This is precisely why our agency, PrettyGreen, is named after the old £1 – to remind us that a key part of "Less Ordinary Creativity" is ROI. 
Whilst there's no magic formula to winning awards, one thing is certain: every trophy-backed campaign is infused with a generous sprinkle of strategy and a creative touch that leaves a lasting impression. 
But what goes into an award-winning campaign? And what can we learn from previous work? To find out, let's take a closer look at one of our multi award-winning campaigns, "Parenting is Messy," for Play-Doh – where we skilfully applied the principles of marketing mixology to concoct a campaign that is almost singlehandedly trying to redecorate our trophy cabinet!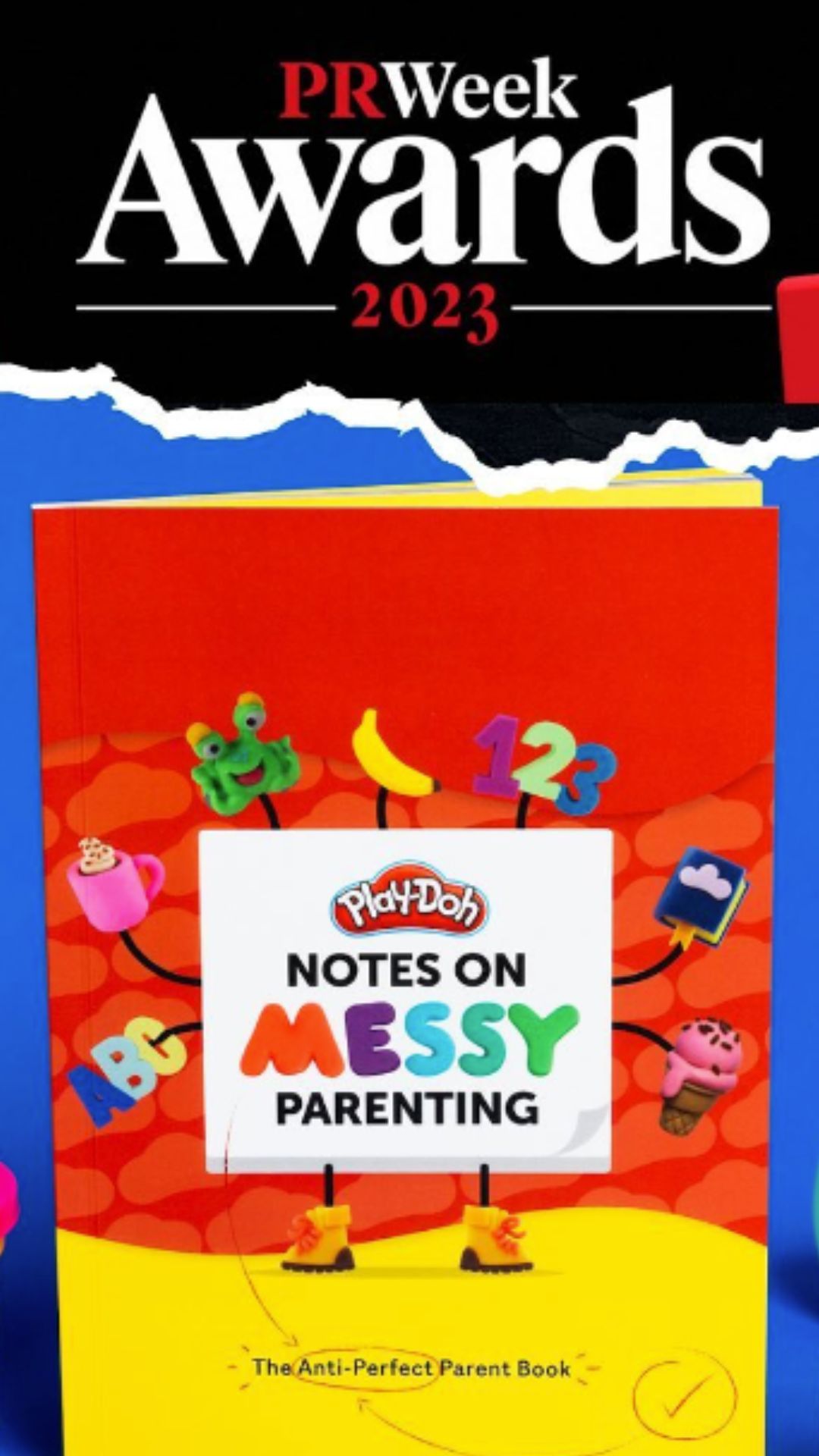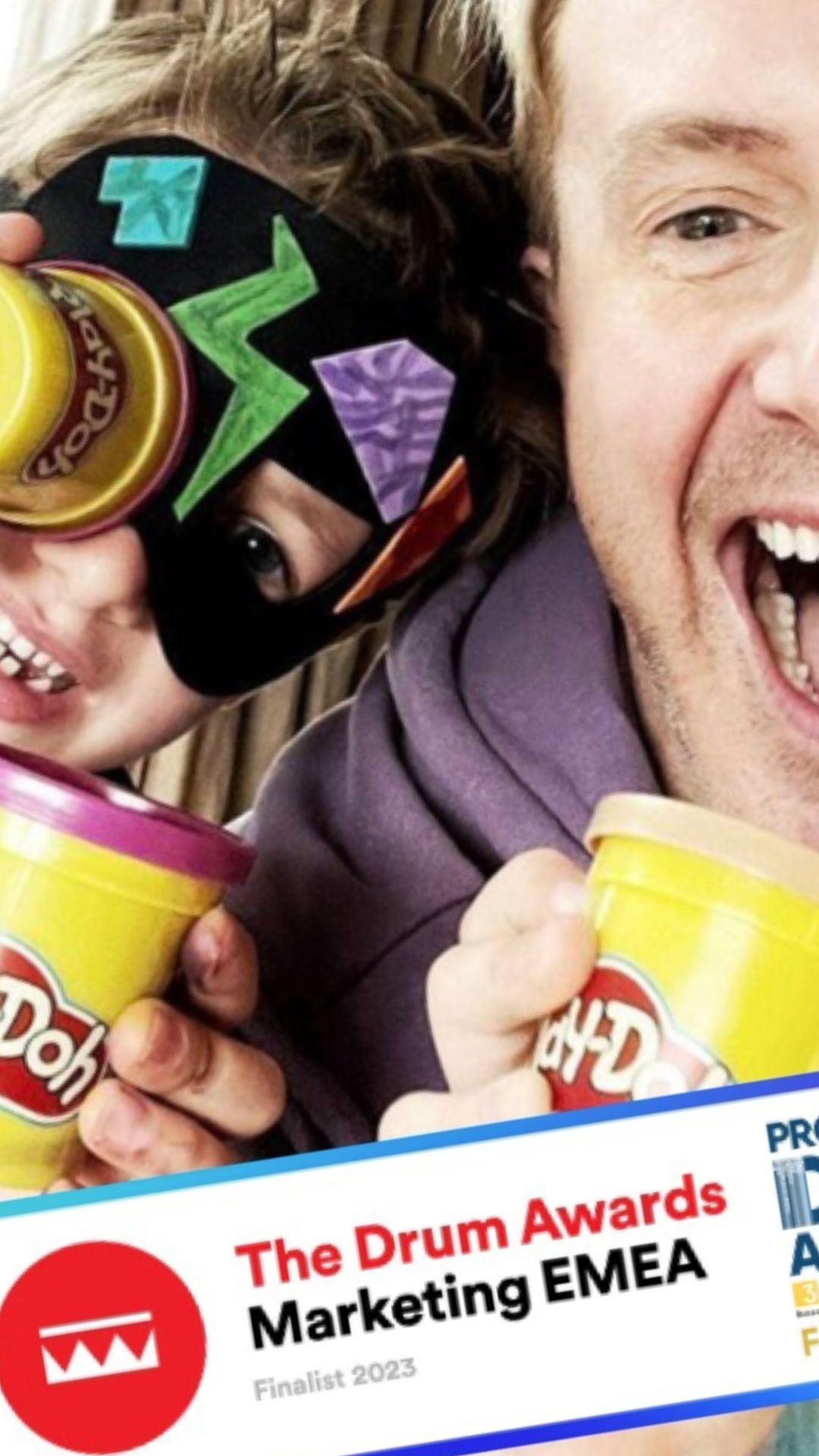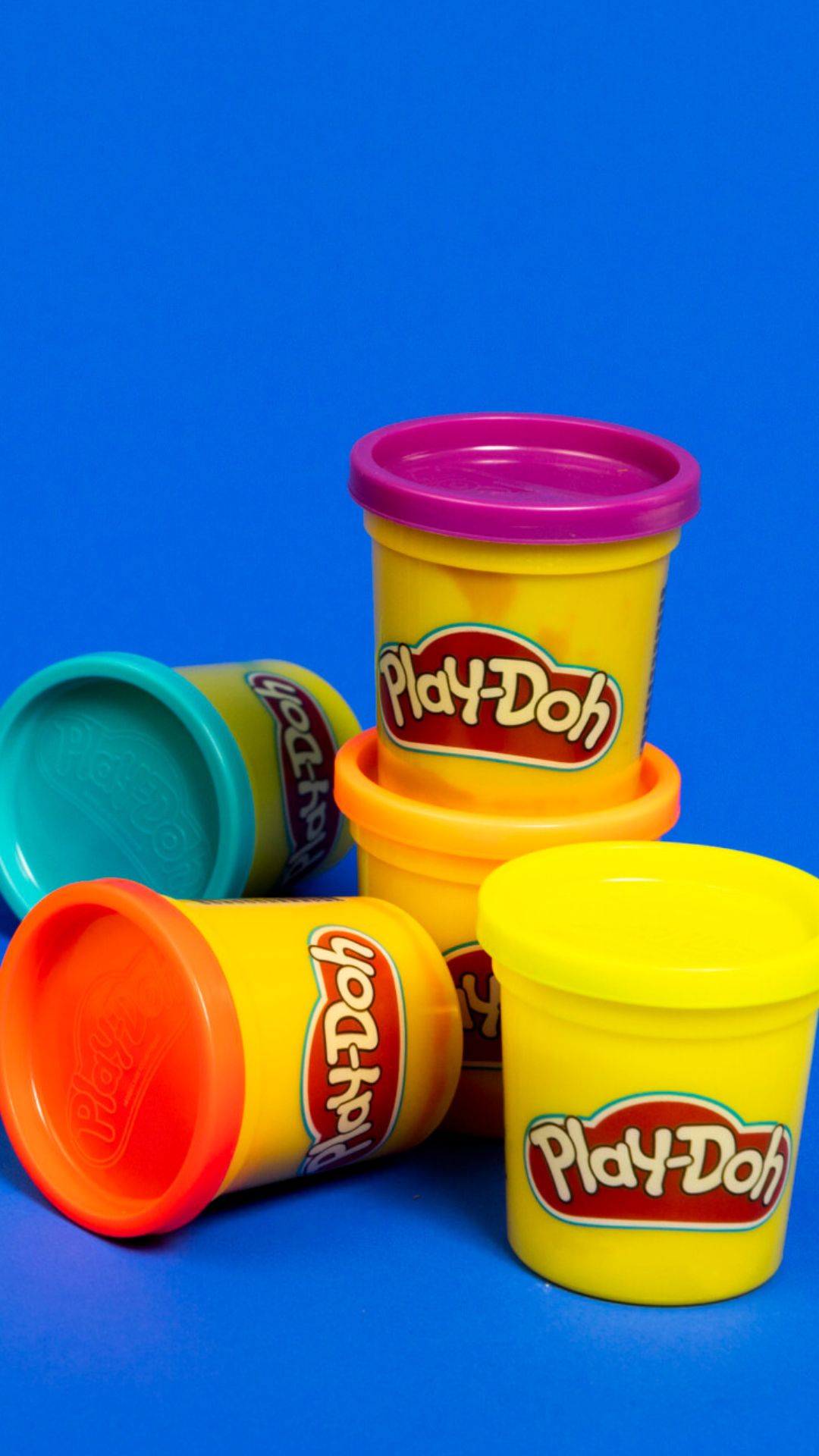 Embracing Tension (THE RECIPE)
For "Parenting is Messy", we recognized that emotions ran high among parents when discussing Play-Doh and the inevitable mess it brought into their lives. We couldn't change the nature of the product, but we could challenge their perceptions of mess and delve into the broader societal forces at play around their neurosis. Instead of shying away from the negative aspects, we leaned into them, fully aware that it was a brave move for the brand.
Extensive qualitative and quantitative research with our target audience revealed their deep-seated emotions surrounding Play-Doh's messiness – bits in the carpet, kids mixing colours, and the ensuing parental frustrations. Armed with this knowledge, we attempted to encourage parents not only to embrace the mess of Play-Doh but also the beautiful mess that is part and parcel of modern life and parenting.
Data and research are hugely important but without a bit of bravery, from both agency and client, to use that information to push the creative boundaries, you may as well be serving lime and soda!
Campaign Integration (THE MIX)
To curate our cross-channel campaign effectively, we enlisted Ian 'H from Steps' Watkins, a well-known single parent of two boys and a relatable figure for our target audience. Ian's authentic insights, coupled with his personal experiences, made him the ideal ambassador for Play-Doh.
To amplify our reach and engage diverse parenting communities, we collaborated with influential parents such as Vogue Williams, Ade Adepitan, and Candice Brathwaite. These Messy Parenting Champions played a vital role in content development and promoted the campaign to their devoted followers.
Our campaign was a harmonious blend of multiple touchpoints, ensuring maximum exposure. The contributions from our creators led to fantastic social media reach, which we gave an extra spicy kick by promoting free 1-click downloads of the campaign book from our website.
Everything was stirred and shaken to perfection – our parenting research provided the media with the "state of the nation" facts, while our celebrity ambassador facilitated in-depth discussions in the broadcast press. Furthermore, our brand experience served as a content factory, enticing more influencers to showcase the campaign.
Effectiveness (THE TASTE)
The campaign stood out due to its daring approach of addressing negative brand perceptions head-on. By speaking directly to 1.2 million parents experiencing the challenges of parenting, our campaign put an arm around them, and said "mess is normal, and perfection is over-rated". Our target audience understood it and embraced it. 
The buzz around "Parenting is Messy" spoke for itself. Parents loved the message, and Play-Doh's Share of Voice saw a remarkable 57% year-on-year increase compared to its competitors. In the four weeks surrounding the launch, Play-Doh witnessed an impressive 12% year-on-year growth. I guess that's what can happen when you incite 226 pieces of global coverage, including 70 pieces of influencer content with 1.2M social reach and multiple appearances on National TV and Radio, with a reach of over 5.5M. 
---
"Parenting is Messy was a perfect way of changing parents' negative perceptions of Play-Doh. By building this emotionally led campaign, we positioned Play-Doh as an ally to parents, taking away all judgement and pressure. Offering parents multiple touchpoints to engage with our campaign was genius and allowed Play-Doh to drive cut through, dominate SOV against competitors and maximise reach with our target consumers."

 
Julia Swan, Communications Manager, Hasbro 
---
Conclusion (THE LAST SIP)
Leaning into a negative brand perception is always a risk, but it's also why "Parenting is Messy" has proven so successful. The campaign exemplifies the art of marketing mixology. By embracing tension, integrating multiple touchpoints, and proving its effectiveness, the campaign not only resonated with the target audience but also delivered outstanding results for the brand.  
So, let's raise our glasses to the power of marketing mixology and the simple, yet effective, award-winning campaign cocktail recipe…  
Take some high-quality base spirits (the data and research), add a couple of complimentary mixers (your brand advocates), a risky flourish or garnish (be brave, take a risk), and serve it a glass that will appeal to the person about to take that drink (your target audience). 
Cheers 
---
PLAY-DOH 'PARENTING IS MESSY' ACCOLADES TO DATE:
WINS
Alliance of Independent Agencies: Best B2C Campaign
Alliance of Independent Agencies: Best Use of PR (silver)
Alliance of Independent Agencies: Bravery award
PRCA DARE Awards: Integrated Campaign of the Year (highly commended)
Influencer Marketing Awards: Most Creative Campaign (silver)
IPM Awards: Best Integrated Campaign
UK Agency Awards: Best PR Campaign
NOMINATIONS
Drum Marketing Awards: Creative Campaign of the Year
Influencer Marketing Awards: Best Family & Parenting Campaign
PR Week Awards: Marketing Communications: Culture, media, sport and travel
Creative Moment Awards: Creative Integrated Campaign of The Year