#TimesUp on Golden Globes hypocrisy
Posted on
January 10, 2018
#TimesUp was the phrase on everyone's lips at this week's 75th Golden Globes Awards ceremony. All over social media was the mantra the hashtag stood for – 'Time's up on silence. Time's up on waiting. Time's up on tolerating discrimination, harassment and abuse. #TIMESUP.
Hollywood A-listers wore black in silent protest, donned Time's Up pins and listened to Oprah's incredible speech on how "time is up" for all those who abuse their power and how they should be accountable for their actions.
But is it really up?
#TimesUp has followed on from the power of the #MeToo movement, started by Rose McGowan, who was the first to break the silence on Harvey Weinstein, yet what may be surprising is that Rose McGowan was one of #TimesUp's biggest critics.  Notably, Rose McGowan and other Weinstein accusers such as Asia Argento, weren't invited to the Golden Globes, nor were they asked to be involved in the Time's Up movement, suggesting that the Weinstein's of the world's still have more power than we thought.
Take director Greta Gerwig, who won best film for a comedy or musical for Ladybird. In an otherwise male dominated category, this was a fantastic win for women to see Greta sweep up this award. Yet, when asked about her previous work with Woody Allen, she gave the biggest non-answer answer ever just proving how 'silent' her protest really was. Can you wear black to support #TimesUp but not denounce Woody Allen, who could be accused of sexual abuse for the 100th time but still the mud won't stick.
How Greta Gerwig feels about previously working with Woody Allen pic.twitter.com/4tmrNMdHiL

— Variety (@Variety) January 8, 2018
This is the problem with what many have named the 'Hollywood fakery' to these politically charged movements. Woody Allen is still getting Hollywood's biggest stars on all of his projects. Blake Lively, for one, who has been spotted wearing her #TimesUP badge with pride, yet is happy to work for an accused sexual assaulter. Jessica Biel, Cate Blanchet, Scarlett Johansson all proposed to stand with #TimesUp but have remained silent on issues with Woody Allen, who has been part of sexual harassment scandals for decades. So, it's obvious times not up on Woody Allen.
Another that time isn't up for is James Franco, won best actor in a comedy/musical for The Disaster Artist, which he accepted with his Time's Up pin. Minutes after accepting his award Twitter exploded with sexual abuse claims against the 127 Hours star. This has since been denied by Franco, and it's fair to take the approach of innocent until proven guilty. However, even the speculation given recent events is alarming.
Now that's not to say that the #TimesUp campaign didn't do its job.  There were obviously good intentions; it hit its $15million fundraising goal and has been the number one topic on the news agenda for this week, therefore ensuring widespread reach. Oprah's speech was inspiring and Natalie Portman's quick and poignant introduction to the best director award was the kind of 'times up on silence' we need: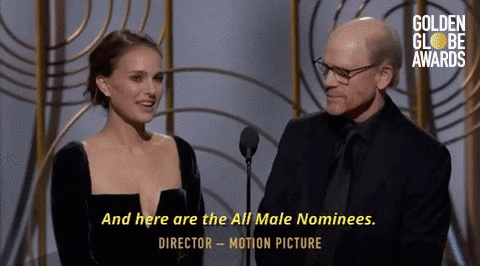 However, when the majority of Hollywood are only taking the 'silent' approach from the silent protest, how much is this actually impacting change? This remains to be seen, but the awareness raising can surely only be a good thing.